Dental Office In Shawnee, KS
From the moment you step into our Shawnee office, we want you to feel relaxed and comfortable during your visit. Our team's expertise is in beautifying smiles, maintaining your dental health, and helping you have a comfortable dentist appointment. Dentistry For You Lenexa is a team of dental experts who are dedicated to our patient's health. We believe that dental health affects overall health and are eager to improve yours. If you're looking for a dental office in the Shawnee, KS area, contact Dentistry for You Lenexa today.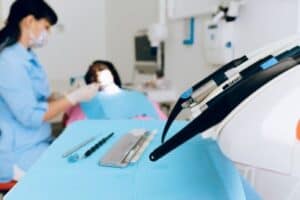 Here are a few of the services this Shawnee, KS dental office provides:
Family Dentistry Shawnee, KS
Same-Day Emergency Dentistry Shawnee, KS
Metal-Free Dentistry Shawnee, KS
Extractions Shawnee, KS
Invisible Braces Shawnee, KS
Teeth Whitening Shawnee, KS
Root Canals Shawnee, KS
Full or Partial Dentures Shawnee, KS
Porcelain Bridges Shawnee, KS
If you're in need of dental services contact Dentistry for you Lenexa today.
Phone Number
(913) 888-8333
Address
13200 W 95th St.
Lenexa, KS 66215
Servicing
Directions
Click Here for Driving Directions
Hours
Monday: Appointment Only
Tuesday: 8 AM – 5 PM
Wednesday: 8 AM – 5 PM
Thursday: 8 AM – 5 PM
Friday: 8 AM – 2 PM
Saturday: Closed
Sunday: Closed
Our Shawnee, KS Dental Office Review Site
Our Facebook Dental Office Page
Dental Office In Shawnee, KS – Proudly Serving
Lenexa, Overland Park, Shawnee, Merriam, Prairie Village, Leawood